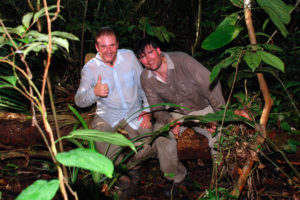 Acaté is a dedicated team of indigenous leaders and professionals based in Perú and the United States with a shared love of the natural world and reconnecting with more holistic methods of living within it.
Our team comprises indigenous peoples, shamans, physicians, social entrepreneurs, permaculturists, and academics with decades of experience in conservation and sustainable living. Each team member brings unique skill-sets and backgrounds, but shares a unifying dedication to protect one of the most biodiverse regions on the planet in conjunction with the knowledge and well-being of its inhabitants. Through this marriage of technical expertise and wisdom, Acaté strives be an effective vehicle to yield real and enduring change.
Our projects operate at the cutting edge of conservation by integrating culture, health, and ecology into the scope and vision of our mission, recognizing a basic indigenous wisdom that the health of a people, their culture, and environment are interdependent. Real and measurable progress drives all of our initiatives in indigenous medicine, permaculture, and sustainable commerce. Although local in focus, our projects seek to be global in relevance through their impact, scalability, and development of replicable models. Our work is constantly evaluated to maintain our core values: impact, transparency, and sustainability.
All of Acaté's field projects are led, coordinated, and undertaken by the Matsés people themselves. Our team is here to provide support and strategy to help the Matsés protect their independence, livelihood, and ways of life as they see fit.
Indigenous Advisory Board
Acaté has an agreement with the Matsés communities that the development and implementation of each initiative is guided by Matsés leadership (Junta Directiva). This board is elected by their communities and comprises a chief (jefe) and five officers.
Daniel Vela Collantes, Jefe de la CC. NN. Matsés (High chief of the Matsés people), Chairman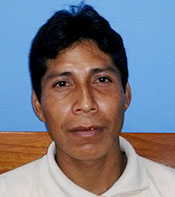 Daniel lives in the Matsés village of San José de Añushi with his wife Anita Tupa Tumi Inuma and their four children Jhalert, Zully, Karla and Daniel. Daniel's father Alberto was captured when he was eight years old but was accepted into the tribe and was able marry Daniel's mother Paola. Daniel had been a Matsés delegate for nine years before winning his position as chief in 2014. Daniel is very interested in expanding Acaté's programs to promote the transmission of traditional knowledge to the youth before the remaining elders pass away.
Sabino Ëpë Tumi Tupa, Ex Jefe de la CC. NN. Matsés (Former High chief of the Matsés people)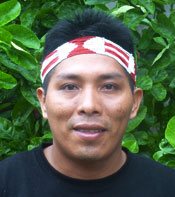 Sabino Ëpë Tumi Tupa is the former-chief of the Comunidad Nativa Matsés (The Matsés Indigenous Association that governs the Peruvian Matsés). Sabino was born at Antied Shëni (The Old Airstrip), on a tributary stream of Chobayacu Creek. His father, named Roberto Tumi Nëcca Unan, was captured as a boy from the Kapishtana-Kulina tribe. Sabino has two wives, Veronica Bëso and Violeta Bëso and has a total of six children. Sabino continues to emphasize the need for the Matsés to be unified, because together they will have the strength to stand up against those who wish to violate the Matsés' rights and invade their territory.
Julian López, Remoyacu (Bio forthcoming)
Luzber Pëmen, Buenas Lomas Antigua (Bio forthcoming)
Rony Nëcca, Puerto Alegre (Bio forthcoming)
Teodoro Meom, Buenas Lomas Nueva (Bio forthcoming)
Acaté Perú Staff Members
Our Peruvian staff members are our direct channels of contact with the Matsés people. Without them, the Matsés have little voice beyond their own to defend their livelihoods and communities from growing external pressures. They are on the front lines; the liaisons, facilitators, and reporters for what field conditions, challenges, and opportunities present so that our US team can adjust and respond accordingly.
Carla Noain, Office Manager
Carla has a deep understanding of the people, the region, and the business environment in her native Perú. She has witnessed firsthand the ecological destruction and suffering in the Amazon Rainforest that has been inflicted in the name of progress. Carla understands the often staggering real world challenges faced on the ground by conservation initiatives and that close ties with local communities are requisite for any chance of sustainability and impact. Her goal with Acaté is to create a model for a conservation organization that focuses less on promises but on deliverables, operating with transparency and accountability.
Felipe Ëpë Bai Unan, Field Coordinator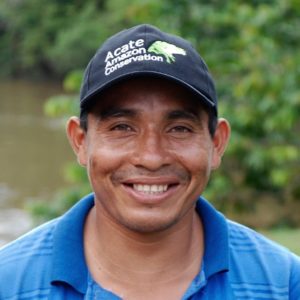 Felipe was born at a small temporary settlement on the bank of the upper course of Chobayacu Creek in 1984. He currently lives at the Matses village of Santa Rosa, near the mouth of Chobayacu Creek. His mother, Francisca, is a Brazilian woman who was captured by his father, Daniel Bai, a renowned Matses warrior. Felipe is proud of being a good hunter and a hard worker. He currently holds the position of treasurer in the Matses' administration. Just as his father helped defend the Matses and their territory from non-Indians before the Matses established the first peaceful contact with the national society in 1969, Felipe wishes to learn new skills of Western culture that will enable him defend the rights of his people in modern times.
William Park, Director, Acaté Perú and Co-Founder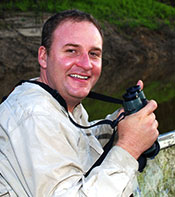 Bill brings a strong understanding of sustainable agriculture and natural products to Acaté. His interest in ecological agricultural practices and agroforestry was strengthened during his years living in Perú and exploring the Amazon. Bill is co-founder of Eco Ola, a company based in Perú that is pioneering application of permaculture techniques to revitalize eroded and abandoned areas of deforestation. As Acate's Co-Founder and Director of Acaté Perú, Bill believes that strengthening local economies and providing choices for renewable resources in conjunction with the local communities is a critical element for conservation. His relationship with the Matsés began in 2003.
David Fleck, Ph.D., Field Coordinator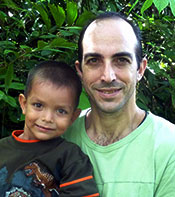 David first encountered the Matsés in the early 1990s while studying marsupials near their territory. They offered to help him collect specimens, and invited him to do so on their land. He spent two years among the Matsés, learning their techniques for hunting, fishing, and trapping, as well as absorbing some of their outlook on the world. After taking an M.A. in zoology from Ohio State, David switched to linguistics and wrote a Matsés grammar as his Ph.D. dissertation. The following year he was co-author of an authoritative book on Matsés culture, "The Traditional Life of the Matsés" and to date has published almost 30 scientific publications on Matsés language, culture, and ethnobiology. Ultimately, he married a Matsés woman and is now the proud father of two young boys. He has lived full-time among the Matsés since 2008, farming a small chacra and living a traditional jungle lifestyle. He is fluent in Matsés, Spanish, and Portuguese.
Recent Publications by Dr. David Fleck
Jiménez Huanán, DM Jiménez Ëshco, A Fleck DW. Matses Icampid (La Historia de los Matsés), Primera Parte, 1880-1947: Ëndenquio Icampid Manuel Tumin Chiubanaid (Historia Antigua Según Manuel Tumí). Tierra Nueva (2014)
Fleck, DW. "Panoan Languages and Linguistics" Anthropological Papers of the American Museum of Natural History. (2013)
Fleck, DW. Poshto Bëchun Chedo Cun Nidaidën Icquid: Los Monos de Mi Tierra. Lima: Unicef. (2013)
Zariquiey Biondi, Roberto & David W. Fleck. Animales y Plantas del Pueblo Kakataibo: Diccionario Trilingüe (Kakataibo, Español, Inglés) con Identificaciones Biológicas, Índice Alfabético Castellano-Kakataibo, Clasificación Semántica, Nombres Regionales y Definiciones Etnobiológicas. Languages of the World/Dictionaries 52, 2013, Munich: LINCOM, 266 pp.
Fleck DW, Jiménez Huanán, DM Uaquí Bëso FS. Diccionario Matsés–Castellano: con Índice Alfabético Castellano-Matsés e Índice Semántico Castellano-Matsés. Tierra Nueva (2012)
Acaté United States Staff Members
Our American staff works closely with our team in Perú to realize the vision of our Matsés partners, secure support, and advocate for our efforts in the Amazon rainforest. They serve to further amplify the voice of the Matsés people and advocate their aspirations and struggles.
Christopher Herndon, M.D., President and Co-Founder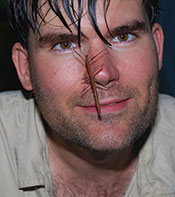 Chris has extensively worked over the past two decades in some of the most remote regions of the Amazon to conduct research examining the medicinal plant knowledge and healing systems of its tribal peoples. From his experiences working with tribes across Amazonia, Chris understands that quality and sustainable health provision to indigenous communities begins when its respects, and operates inclusively, within their culture and traditional healing systems. As a medical student, Chris collaborated with shamans in southern Suriname to develop an innovative approach for the integration of indigenous health practices into healthcare delivery. This program received international acclaim by UNESCO as a "an extremely impressive example of integration of the two systems of health" and remains ongoing years after implementation.
Noah Sabich, Ph.D., Development Director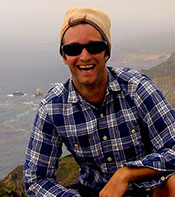 Noah has extensive experience throughout Europe, French Polynesia, North Africa, North America, South America and Australia, researching post-colonial issues and guiding expeditions in these locales. His interests include finding solutions to questions of food sovereignty, cultural autonomy, and linguistic and historical conservation in marginalized societies. After successfully defending his doctoral dissertation on Francophone Tahitian literature, he decided to apply his knowledge of post-colonial theory to create enduring change with Acaté's endeavors in Perú.
Tigre Pickett, Permaculture Designer & Artist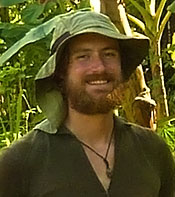 Tigre's diverse background mirrors his interests and abilities. He studied architecture and design at Princeton University followed by eight-years as a professional graphic designer and artist. In 2009, Tigre discovered The Barefoot Architect and began studying and self-teaching sustainable design and agriculture. Tigre left for South America in 2011 and has worked on a variety of organic farms and communities practicing permaculture and green design. He received his Permaculture Designer's Certificate from San Diego Sustainable Living Institute and co-founded Ecology Artisans, a permaculture landscape design + install firm in San Diego, California.
Matsés Team Members
No one values or is more knowledgeable about the rainforest than its indigenous inhabitants and protectors. We're thankful for their initiative, perseverance, and openness in sharing their extraordinary knowledge and skill sets. The individuals below represent just a few of the Matsés members of Acaté's team. Stay tuned as we add additional bios in the near future!
Luis "Lucho" Dunu Jiménez Dësi, Shaman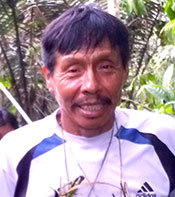 Lucho, the principle author of the first chapter of the Matsés Traditional Medicine Encyclopedia, lives in Estirón with his wife, Marina, and their children. Renowned as a powerful healer among the Matsés, he is often sought for healing by Matsés in distant villages. Aside from Lucho's natural talent for healing and plant medicine, he is also an expert hunter. Read more!
Marina Ëshco Bai Unan, Farmer & Craftsperson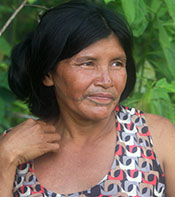 Marina is a talented multi-tasker. Between her three farms, her seven children and four grandchildren, and her crafts projects, Marina is an industrious worker. Married to Lucho, she lives in Estirón and is respected by her tribe for her weaving, craft skills, and master farming techniques. Marina is excited to continue applying permaculture principles to her farm to achieve even greater yields. Read more!
Urbano Pemen Dunú, Expert Hunter & Gatherer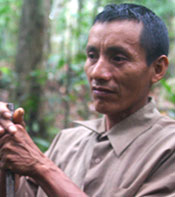 Hailing from the village of Buenas Lomas Antigua, Urbano embodies the Matsés spirit of resiliency and determination. An expert hunter, trapper and gatherer, Urbano knows the importance of preserving the ecosystem on which his family and people depend. He is leading our non-timber forest products program and is an expert at identifying and tapping trees for procuring their healing resins. Read more!
Lucinda Damé, Farmer & Craftsperson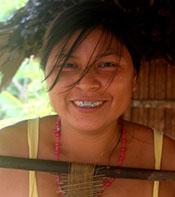 Lucinda lives with her family in Buenas Lomas Nueva. A prolific farmer, Lucinda is very fond of showing off and sharing her bountiful harvests. Her house is a hub of activity in the community and no one leaves hungry. Lucinda is working with our Perú field team in applying permaculture principles on her farms and devising new techniques for improving crop production and harvests. Read more!
Roberto Tumi Nëcca Unan, Hunter & Shaman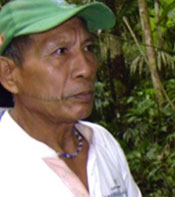 Roberto is an accomplished shaman and Matsés elder. Hailing from Remoyacú, Roberto used his experience as a renown healer to pen the second chapter of the Matsés Medicinal Encyclopedia. When Roberto is not teaching the Matsés youth about their indigenous tribal wisdom, he is hunting, trapping, or traveling to Iquitos to help defend the rights and territory of his people. Read more!
Arturo Tumi Nëcca Potsad, Warrior and Shaman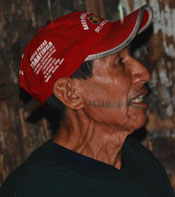 Arturo was born in Brazil near the Pardo River, an affluent of the Curuçá River. His late father, Nëcca, was considered to have been one of the best medicine men of his generation. Arturo learned most of his medicinal plant knowledge from his father, and is himself considered to be one of the three most knowledgeable living Matsés medicine men. His grandmother was captured in the 1920s from the Mayu tribe, which once inhabited the Peruvian half of the Jaquirana River basin. His paternal grandfather, named Tëca and nicknamed Bushmaster, was one of the bravest warriors remembered in the Matsés's oral history. Arturo currently lives with his two wives at the Matsés village of Buenas Lomas Nueva on the middle course of Chobayacu Creek in Peru. He has shared his knowledge to compose one of the chapters of the Matsés Traditional Medical Encyclopedia that will soon be printed and distributed to the Matsés by Acaté Amazon Conservation.
Rómulo Tëca Nacua Chapa, Shaman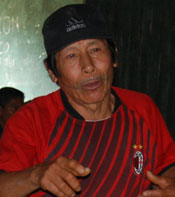 Romulo was born in Bent Longhouse, a Matsés communal longhouse that was built on the banks of the Pardo River in Brazil when the Matsés fled there in the early 1950s after an armed conflict with Peruvian soldiers. He grew up in both Peru and Brazil during the time when the Matsés were constantly migrating back and forth across the Jaquirana River. His father, Nacua, was killed by the Marubos when the Matsés had a battle with them around 1960. His grandmother, named Casayuqui, was captured in the 1920 from the Shaëbo tribe. Romulo currently lives at the Matsés village of Puerto Alegre on the Peruvian bank of the upper Jaquirana River. He is a respected medicine man and frequently sought after by other Matsés to collect medicinal plants for them and their children. He is concerned about the fact that young men have not been interested in learning the traditional medicinal knowledge, and is therefore excited about his upcoming participation in the Acaté Amazon Conservation apprenticeship program.
Scientific Advisory Board
Acaté's conservation initiatives are a close marriage of indigenous wisdom and Western science. In developing our projects, we have the privilege to consult with some of the most respected academic experts with unparalleled experience. The members of Acaté's Scientific Advisory Board have a long track record of breaking paradigms of Western science by engaging indigenous peoples as active participants and partners in research.
José Fragoso, Ph.D., Ecologist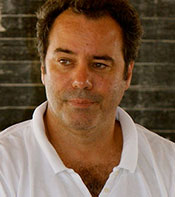 Dr. Fragoso did his graduate work in northern Brazil investigating the complex ecology and vital role of large herbivores such as peccaries in the rainforest. When a massive gold rush in the region surged air charter costs out of his budget, he purchased and learned to pilot an experimental two-seat ultralight plane. Surveying the canopy from this aerial vantage point shaped his interest in studying the spatial landscape, distribution, and movement of species. For the past two decades, he has conducted groundbreaking research with the peoples of Guyana-Brazil corridor examining indigenous ecological knowledge and resource management. Professor Fragoso has been at the forefront of a movement to engage indigenous peoples as partners in research. Recently, his team at Stanford University and their in-country partners showed that on-the-ground carbon assessments by indigenous peoples yielded 20 to 40% higher estimates than previously obtained through remote satellite imaging. Listen to Dr. Fragoso speak about his work!
Campbell Plowden, Ph.D., Ecologist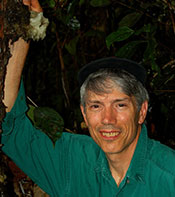 Dr. Plowden has worked for tropical forest conservation since 1985 with groups including Greenpeace, the Environmental Investigation Agency, and Amazon Watch. He earned a Ph.D. in Ecology from Penn State University examining non-timber forest products with the Tembé Indians in the eastern Brazilian Amazon. His thesis remains to date the most comprehensive study undertaken of copaiba extraction, the resin at the center of Acaté's Sustainable Commerce program. He has published numerous scholarly publications and articles on tropical forest issues. Dr. Plowden is Founder and President of the Center for Amazon Community Ecology.