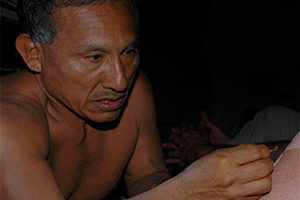 The erosion of traditional medicine and culture has imparted a devastating effect on the self-sufficiency and health of indigenous peoples worldwide. The acculturation of Amazonian peoples has been, at best, a difficult transition. Most tribes usually suffer a profound loss of cultural identity and social cohesion, if not extinction. Traditional knowledge and beliefs are no longer valued and passed down to younger generations. As a result, much of the wisdom of the elders, including the healing knowledge of the shamans, is being irreplaceably lost at a rapid pace. Lacking their own systems of healing, these tribes become totally dependent on the rudimentary external health care available in remote and low external resource settings. It is no coincidence that, in every country of South America, indigenous peoples have the highest rates of disease and mortality.
Acaté seeks to maintain self-sufficiency of health care through the promotion of traditional systems of medicine. We provide programmatic support for elder tribal shamans to teach and impart the knowledge of the rainforest to younger generations of Matsés as well as to document and preserve, in their own language, their use of medicinal plants for the benefit of future generations. The communities have expressed interest in projects that include the integration of traditional medical practices (i.e. local herbal remedies), based on a successful and replicable model developed and implemented by project team members in other Amazonian communities.
Preserving and protecting indigenous medicine
Our field staff is partnering with Matsés healers to develop a clinical manual articulating indigenous concepts of health, disease, and terminology for use in medical provision by local and governmental health services. Historically, health provision to most indigenous communities in the Amazon has operated independently and without consideration of indigenous concepts of disease, well-being, and traditional therapeutics. The project team is collaborating with Matsés healers at the project sites to document and fully describe their concepts of illness, disease etiologies, and traditional healing practices. A comprehensive vocabulary of Matsés medico-anatomical terminology with approximate biomedical correlations will be then be obtained. Including a brief introductory guide to the Matsés grammar, words, and phrases, the manual will serve as an invaluable clinical reference for health providers to the Matsés.
---
BIOPROSPECTING STATEMENT: Note that the aforementioned activities will NOT include ethnobotanical collection of plant or biological specimens for collection outside of communities, public dissemination of medicinal species botanical identity, or commercial use of traditional knowledge. Acaté does not engage in bioprospecting, nor is it our policy to use any of the information obtained by the project goals for commercial purposes or for any terms beyond those described.
---