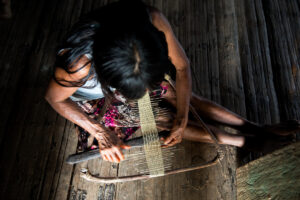 Successful sustainable economic projects are the Holy Grail of conservation initiatives. They are the hardest to develop yet offer the best hope to stem the tide of rainforest destruction worldwide. Too often, international rainforest conservation efforts aiming to combat destructive economic activities, such as logging and poaching, place little or no attention on creating viable economic alternatives for local communities. Even the most recently contacted indigenous people, such as the Matsés, are increasingly drawn into the cash economy. Even though they still largely subsist on traditional activities and retain a high degree of self-sufficiency they need cash to obtain basic household needs such as clothes, blankets, pots, and medicines. If real economic alternatives that support local livelihoods are absent, then conservation efforts are doomed to ineffectuality.
It was in this spirit that the Matses Handicraft Initiative was launched in 2016 in close partnership with Xapiri, an indigenous art company based in Cusco, Peru. Xapiri is committed to providing an economic outlet for indigenous communities in the Amazon through developing a global market for their handicrafts and promoting awareness of indigenous culture. Over the decades, conservation organizations in the Amazon have launched well-meaning handicraft projects. Unfortunately many fall short of realizing true economic viability due to the lack of demand and the long painstaking work of market development. Further, handicraft initiatives with other indigenous groups living in remote areas of the Amazon typically source from only a small handful of individual artisans located in the most geographically accessible villages. The Matsés are a remarkably egalitarian people and they have reiterated to us on many occasions the importance of involving as many members of their communities as possible so that the benefits can be equitably shared.
Since the first order of uitsun bracelets from the Matsés, the project has now expanded to nearly all the Matsés communities in Peru and involves dozens of Matsés artisans. The initiative has brought renewed interest and economic opportunities to the Matsés and has expanded to include almost all of their traditional handicrafts including black palm wood spears crafted by Matsés elder warriors and beautiful ceramics created by the last remaining artisans who hold knowledge of this vanishing art. Through this program, timeless ancestral artistic practices are maintained and transmitted to younger generations and much needed economic opportunities are generated for Matsés elders and youth.
In May 2019, Jack Wheeler, Tui Anandi and Mike van Kruchten of Xapiri joined Acaté in our trip to the Matsés territory and spent a further several weeks visiting Matsés communities across their lands in Peru, meeting Matsés artisans and documenting the processes behind the art. Their reporting and beautiful photography in the Ancestral Transmission series that followed provides an intimate glimpse into Matsés culture and daily life as never seen before.
Ancestral Transmission Links and Field Reports: