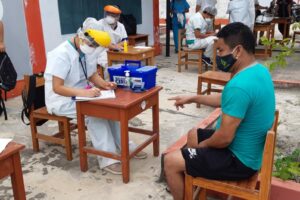 The erosion of traditional medicine and culture has imparted a devastating effect on the self-sufficiency and health of indigenous peoples worldwide. The acculturation of Amazonian peoples has been, at best, a difficult transition. Most tribes usually suffer a profound loss of cultural identity and social cohesion, if not extinction. Traditional knowledge and beliefs are no longer valued and passed down to younger generations. As a result, much of the wisdom of the elders, including the healing knowledge of the shamans, is being irreplaceably lost at a rapid pace. Lacking their own systems of healing, these tribes become totally dependent on the rudimentary external health care available in remote and low external resource settings.
Before Acaté's traditional medicine initiatives, none of the remaining elder Matsés shamans had apprentices to pass on their ancestral knowledge of the rainforest accumulated over countless generations. Their entire ancestral healing knowledge was inarguably on the precipice of extinction. Now a decade later, the Matsés have created the historic first indigenous medicinal encyclopedia to worldwide attention and acclaim and now have restored Healing Forests in all of their villages. We are seeing young Matsés men and women, who constantly face racism and discrimination in their interactions with the outside world, emerge as the next generation of Matsés healers with a renewed pride in their culture and determination to carry on the proud legacy of their people. Acaté has provided support for their advanced training with the elder healers.
The next phase is to build collaboration through the traditional medical practices and enhancing external health care delivvery, based on a successful and replicable model developed and implemented by project team members in other Amazonian communities.
In 2020, Acaté and the Peruvian Ministry of Health (Ministerio de Salud) signed a Memorandum of Understanding for collaboration to advance initiatives to improve health care delivery to Matsés communities.
Learn more about Acaté's Integrating Medical Systems programs in the following links and field reports:
---