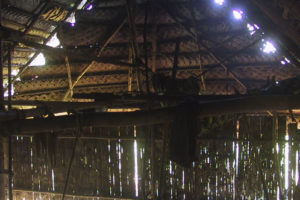 Matsés Community Members Spearheading Acaté Field Operations
Acaté is an on-the-ground conservation organization that maintains an uncommonly close partnership with the indigenous leaders, elders and communities. All of Acaté's field projects are led, coordinated, and undertaken by the Matsés people themselves. Our team is here to provide support and strategy to help the Matsés protect their independence, livelihood, and ways of life as they see fit. The Matsés are an extremely proud people, and are, in the words of Bill Park, Acaté's co-founder, "the most independent people I have ever encountered." We hold dearly their trust in us to deliver on our word. The development and implementation of each field initiative of Acaté is guided by the Matsés leadership (Junta Directiva). We additionally hold annual meetings with all the elected representatives and community delegates (Asemblea General) in their territory to review all our activities and develop future projects.
Acaté is headquartered in the Amazon gateway city of Iquitos, working with the Matsés that come into the city, thereby providing a much-needed link for their communities to the outside world. Acaté works in daily communication with Matsés leadership and our teams in the United States and Peru closely coordinate on how to best support the Matsés and realize their initiatives. Our team has decades of experience in on-the-ground conservation initiatives in Peru and other countries across the Amazon. For over a decade, Acaté field coordinator, Dr. David Fleck, lived in one of the most remote Matsés villages and is an integrated member of their community. Dr. Fleck has written over 30 scientific publications on the Matsés culture, language, and ethnobiology.