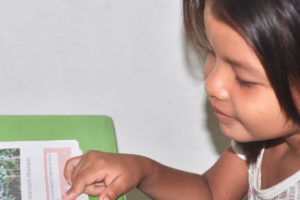 Preserving Traditional Ecological Knowledge through Supporting Literacy
The fate of a culture is inseparably bound to its language. In Acaté's latest field update, Dr. David Fleck reports on the milestone completion of eight reader books, illustrated and written by Matsés authors based on narratives provided by Matsés elders. More than doubling the amount of native language books available for Matsés children, each volume is designed to help Matsés students learn and practice reading while promoting the intergenerational transmission of traditional natural history knowledge.
As the Matsés assimilate to mainstream society, their traditional ecological knowledge, which is extensive and essential to their subsistence, is not being passed down to younger generations. Consequently, young people, who today spend more time in the classroom than in the forest, are not obtaining the knowledge required to hunt, fish, and utilize wild plants. At the same time, the modern school system, which is replacing traditional education, is of such poor quality that children are not learning to read at an early age and youths are not acquiring skills at a level that allows them to interact successfully with the national society or find good jobs when they seek employment outside of their territory. Literacy is critical for governance and defense of their territory.
Although access to bilingual education is recognized by national governments as a fundamental right of indigenous peoples, the challenges to the development and successful implementation of educational initiatives are multifold, particularly in smaller indigenous groups and remote communities. Last year, we reported on the publication by Acaté of an innovative reader developed to provide a tool for Matsés families to impart literacy in their native language to their children. This 146-page reader included 200 original watercolor illustrations of animals, plants, artifacts and other elements of the local environment and of Matsés culture painted by the Matsés artist Guillermo Nëcca Pëmen Mënquë. This book was distributed and utilized across all Matsés villages in Perú.
Acaté's latest project, entitled "Matsés Authors as a Key to Literacy and Intergenerational Transmission of Traditional Ecological Knowledge" reached an important milestone this month with the publication of eight readers that describe and illustrate Matses traditional ecological knowledge of plants and animals. The illustrated readers, written by Matsés authors based on audio recordings of narratives provided by Matsés elders, are designed to help Matses students learn and practice reading and to promote the intergenerational transmission of traditional natural history knowledge. The topics of the readers cover the natural history and ecology of rainforest mammals, fish, reptiles, birds, plants and invertebrates.
We would like to share the completed versions of the readers, which will be printed this month and can be downloaded from the following links:
To access and view the full readers, click on the links in the captions.
The Work Process for Development of the Readers
The elaboration of the readers began with a data collection workshop. Four Matsés experts on natural history, two Matsés authors-in-training, a Matsés artist, and a linguist came together in Iquitos during the last two weeks of January 2018.
The purpose of the workshop was to interview Matsés elders about their knowledge of the natural history of animals and the utility of wild plants, to compile a database that the Matsés authors would use to write the prose for the readers.
This was done in part by writing down short sentences for the first-grade level readers, and in part by making audio recordings of longer narratives for the more advanced readers.
An essential element of the readers is the attractive artwork, which entices the young readers to try to understand the accompanying text. During the course of the past 9 months, Matsés artist Guillermo Nëcca Pëmen Mënquë has produced 100 animal and plant portraits and 220 watercolor paintings illustrating animal habits and plant uses that illustrate the readers.
The Elementary Readers are designed for Matsés children in early primary school. Each species entry contains an illustration by Guillermo and provides information on their ecology in the rainforest, such as how they raise their young. The full collection of illustrations can be viewed by downloading the readers.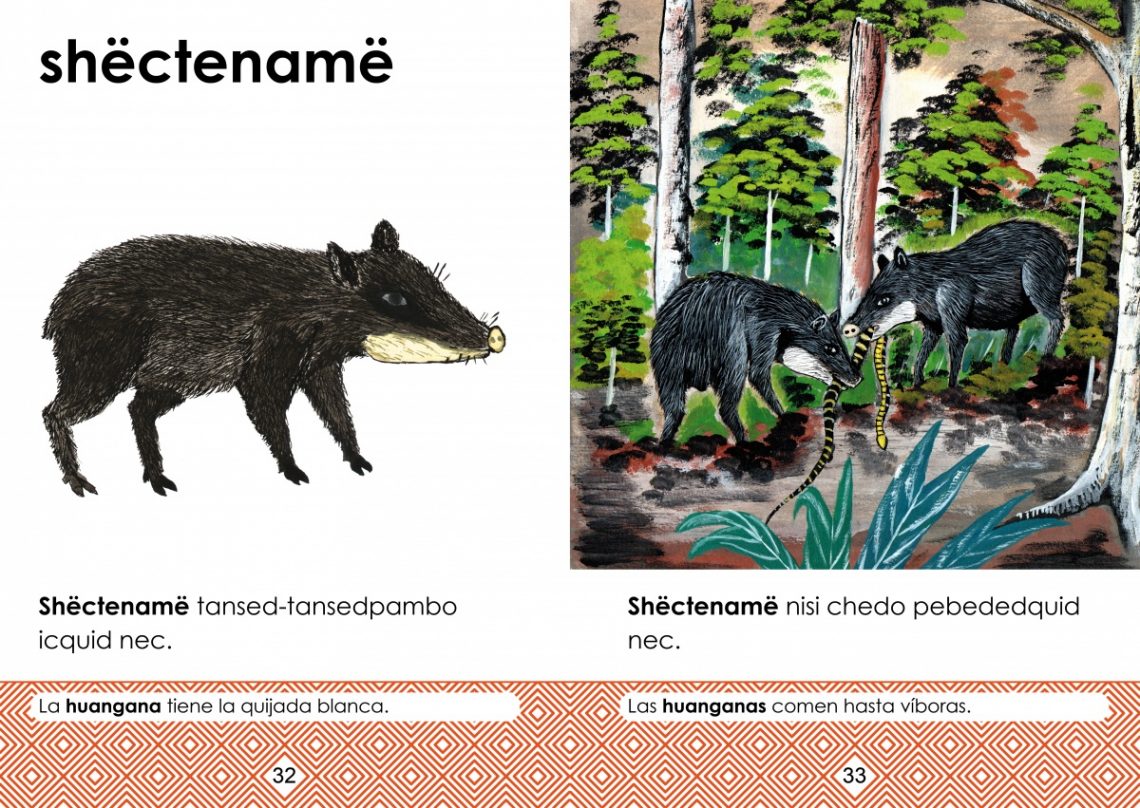 The Advanced Reader, which is piloted in this initiative with the Advanced Introduction to the Ecology of Mammals, is designed for 4th to 6th grade students and conveys a greater depth of ecological information. Patricia J. Wynne, staff artist at the American Museum of Natural History, collaborated on this volume to provide black-and-white drawings of all the mammal species. The following extract from the advanced reader exemplifies some of Guillermo's and Patricia's drawings: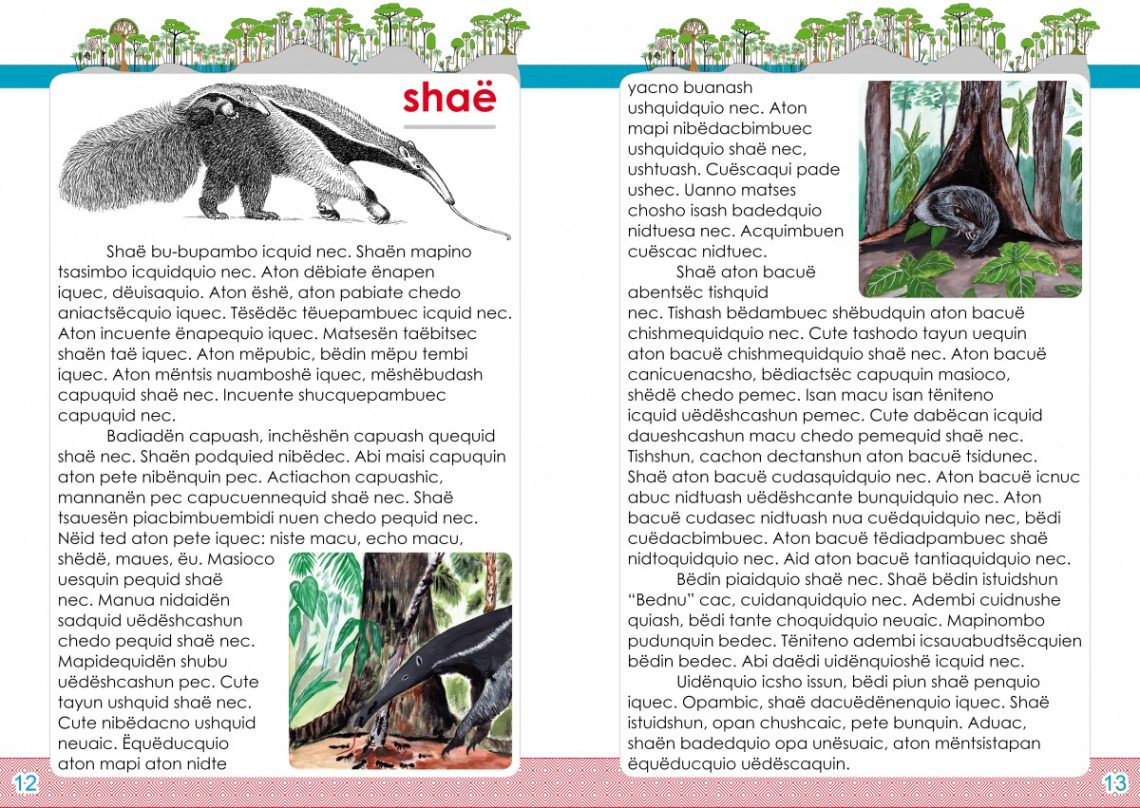 After the data collection workshop, the Matsés authors have been busy learning writing and computer skills, and composing the contents for the readers under the tutelage supervision of linguist David Fleck. The book-writing process also involved follow-up consultation with elders to fill in gaps in the knowledge and to check the final products.
Before finalizing the readers, all the manuscripts were field tested with Matsés children, and modified when children did not understand the message or had other difficulties.
In what follows we present the Matsés team members who participated in this project:
César Nacua Uaqui Canshë – natural history expert. César is considered by the Matsés to be the foremost expert on the behavior of all animals. He is particularly talented at relating animal behavior in engaging narratives; for example, rather than listing natural history facts about armadillos, he may include this information in narrative describing a typical day in the life of an armadillo. César is also an accomplished medicine man.

Salomé Unan Dëis Huanin – master craftswoman. Salomé was captured by Matsés warriors from the Kulina-Pano ethnic group when she was a young woman. The Matsés often comment that she has mastered the fabrication of traditional Matsés handicrafts to the point of surpassing the Matsés themselves. Salomé knows all the wild forest plant that the Matsés use, including some that most Matsés no longer know. Salomé is also renowned as one of the best female hunters among the Matsés.

Joaquin Tëca Rojas René – natural history expert. Joaquin is an accomplished hunter and an avid observer of nature. He is particularly talented at explaining animal natural history in clear terms, and pointing out interesting or comical aspects of animals' behavior. Among his useful skills is identifying the local fauna in field guides, whilst older Matses have trouble recognizing species portrayed in two-dimensional images.

Marina Ëshco Bai Unan – master craftswoman. Marina, like her mother Salomé, is an expert at fabricating all of the Matses traditional artifacts, and also at teaching others how to make them. She is an expert agriculturalist and, being the wife of a medicine man, is well versed in Matsés traditional medicinal knowledge.

Felipe Ëpë Bai Unan – author-in-training. Felipe is the son of a Brazilian woman who was captured by the Matsés in the 1960s, and works for Acaté Amazon Conservation as a field coordinator. To the skills that he has thus far learned while working with Acaté (use of word processing, spreadsheet, and cartography software, use of GPS units, map data collection, etc.) he has learned the various skills associated with books writing. As such, he is becoming one of the young Matsés who is most knowledgeable with respect to Western technology. In the process of participating in the project, the authors-in-training become human reservoirs for traditional ecological knowledge.

Dina Jiménez Ëshco – author-in-training. Dina (daughter of Marina) is a schoolteacher in the village of Estirón. She has taken a leave of absence from her teaching job to participate in this project, and has quickly picked up the many skills associated with writing books, including collecting data, using professional audio recoding equipment, transcribing recorded narratives, composing prose, using a word processor, writing detailed instructions for the illustrator, and deciding the contents and layout of the readers. In fact, by her own volition Dina is currently writing a book about her grandmother's (Salomé) hunting feats. Considering that one of the aims of this project is to provide the Matsés authors with skills that will help them obtain jobs, it is worth mentioning that upon learning that Dina was writing books, the Peruvian ministry of education sought Dina out and commissioned her to proofread pedagogical materials written for the Matsés. Also, she has been hired to teach some courses at the Universidad Científica del Perú's bilingual education program (in Iquitos)!

We will be sending the readers to the printer this week, and will distribute them to the Matsés schools before the start of the next school year. We would like to express our gratitude to the Liechtenstein Development Service (Liechtensteinischer Entwicklungsdienst), Nouvelle Planète (Switzerland), and Lotex Stiftung (Liechtenstein), who generously financed this project. The American Museum of Natural History Center for Biodiversity and Conservation funded the artwork drawn by Patricia Wynne.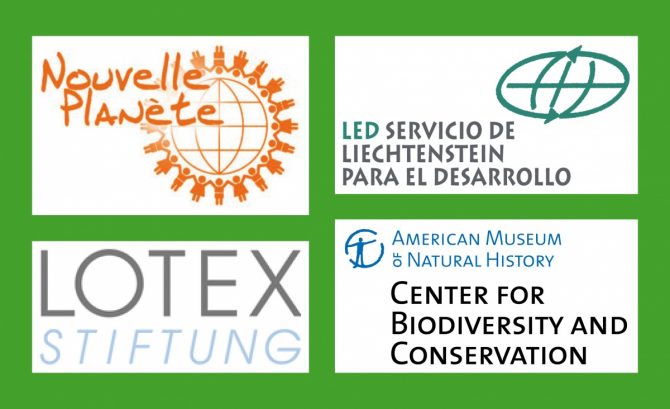 We would like to continue this project by training more Matsés authors and producing more pedagogical-ecological materials for the Matses children.
While this new collection more than doubles the amount of children's literature written in the Matsés language, it is diminutive compared to the amount literature available to Western children. But Acaté plans to continue. Among the book projects for which we would like to obtain funding are:
1) publication of winning entries of a story-writing contest where Matsés children write original fact or fiction stories set in the jungle.
2) more ecological readers of the advanced mammal ecology type
3) a taxonomically-organized ABC book, and
4) an illustrated Matsés-Spanish dictionary.
We would also like to hire more Matsés youth to be authors, including recruiting the few Matsés who are currently studying in universities in Iquitos. In addition to the skills they would acquire by writing books (part-time), we would like to tutor them with their homework, to reduce the high rate of indigenous university students who flunk out due to the poor education they receive in high school at their villages. Other indigenous groups in Peru also have high drop-out rates, but for the Matsés it is the highest, at over 80%.
Please make a donation if you would like to support this important initiative!
Acaté is an on-the-ground conservation organization that works directly in a true and transparent partnership with the Matsés indigenous people to maintain their self-sufficiency and way of life. The Matsés safeguard one of the great areas of rainforest on the planet, protecting a region of over 3 million acres in Perú alone and shielding some of the last remaining uncontacted tribes in voluntary isolation from unwanted encroachment from the outside world. Donations are tax-deductible and go directly to fund these on-the-ground initiatives that operate at the leading edge of conservation with unparalleled transparency.
Stay tuned soon for more reporting on our work including major updates on our sustainable economic development programs and launch of novel approaches for indigenous-led biodiversity assessments. If you missed it, take a look at our November 2017 field update highlighting the major advancements in our traditional medicine initiative!
Acaté is also proud to share the three extraordinary installments of reporting on Matsés ancestral transmission from our partners at Xapiri. Through their work with the Matsés in partnership with Acaté, Xapiri provides much needed economic opportunities for Matsés men and women through the sale of traditional crafts and seeks to ensure that the ancestral artistic practices are maintained and transmitted to younger generations. In May 2018, Jack Wheeler, Tui Anandi and Mike van Kruchten of Xapiri joined Acaté in our trip to the Matsés territory and spent a further several weeks visiting Matsés communities across their lands in Peru, meeting Matsés artisans and documenting the processes behind the art. Their reporting and beautiful photography provides an intimate glimpse into Matsés culture and daily life as never seen before! Click on the links below to access.